Printing & Packaging Machinery
MSS80 Thin Blade Slitter Scorer
MSS80 Thin Blade Slitter Scorer
The thin blade slitter scorer is characterized by thin cutting and auto blade sharpening. And the cutting and line pressing movement is driven by motor with its speed under auto monitoring. Besides, this slitter scorer machine is equipped with 4 blades and 6 lines. The cut specifications and line distances are manually adjustable. The press axel and wheels are plated with hardened chromium.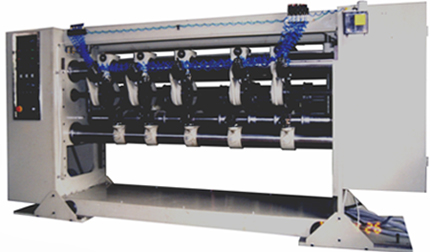 DF14 Double Facer
Double facer is made up of master transmission roller, press roller, hot bake channels and cylinder.
The master transmission roller is covered with herringbone wear-resisting rubber.
The press roller of the warming section rises and falls through hydraulic system.
The hot bake channels are equipped with 14 pieces 600 mm wide plane dryer cylinders.
The cylinders are made of wearing-resisting and low-distortion materials. Its surface is milled.
The surface of this double facer can be grinded.
The upper blanket is equipped with pneumatic tensioning gear.
And the lower left machine is installed with manual tensioning device.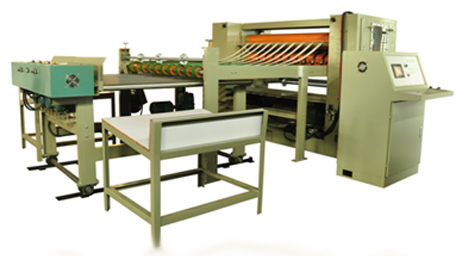 Lantytk® Corp is a specialized manufacturer of various printing and packaging machines. The machines or production line we provide include transverse cutting machine, thin blade slitter scorer, corrugating machinery, mechanical roll stand, and single facer and corrugated production line. These machines are widely used in printing and packaging industries.
Related Products
Central Impression Flexographic PressThis GF central impression flexographic press (flexo CI printing machine) is a kind of printing line for flexo products, such as BOPP film (18-45um), CPP (18-60um), PET (12-30um), PVC (25-75um), PE (30-100um), paper (30-120GSM), etc. This machine equipped with CI drum, is suitable for the printing color of four-color, six-color, eight-color and ten-color, with the Max printing ...
Automatic Flexo Printer Slotter and Flexo Die CutterOur flexo printer slotter and flexo die cutter is a kind of cardboard printing line consisting front edge feeding, printing, slotting, die cutting. The feeding machine is intermittent, with the rear-kicking function. During the slotting process, the cardboard creasing process can also be finished. Thin cardboard and curving cardboard are available for this machine...