Printing & Packaging Machinery
DGM80 Glue Machine
DGM80 Glue Machine
DGM80 glue machine consists of press roller, paste roller and so on.
The press roller goes up and down through hydraulic system pneumatically.
Its position can be adjusted.
The paste roller surface has netted lines and is coated with hardened chromium, which keeps the glue machine rotating after machine stopped.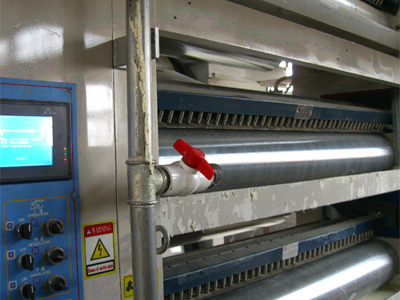 DF14 Double Facer
Double facer is made up of master transmission roller, press roller, hot bake channels and cylinder.
The master transmission roller is covered with herringbone wear-resisting rubber.
The press roller of the warming section rises and falls through hydraulic system.
The hot bake channels are equipped with 14 pieces 600 mm wide plane dryer cylinders.
The cylinders are made of wearing-resisting and low-distortion materials. Its surface is milled.
The surface of this double facer can be grinded.
The upper blanket is equipped with pneumatic tensioning gear.
And the lower left machine is installed with manual tensioning device.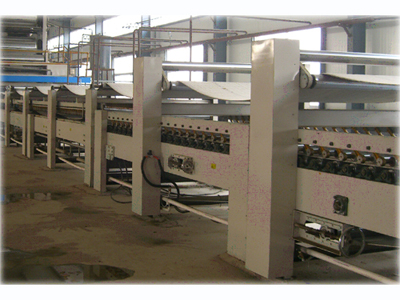 Specialized in printing and packaging machinery, Lantytk® Corp manufactures and provides five layer corrugated paperboard production line of good quality and high performance. The production line we provide includes four parts. And each part of this production line consists of various machines or tools like glue machine, double facer, mechanical roll stand, and more.
Related Products
A4 Copy Paper Cutter WrapperA4 paper cutting packaging machine produced in Lantytk® Corpis a comprehensive device, which can deal with all the processes from the reel to the finished sheet. This A4 copy paper cutter wrapper is used to cutting big paper roll into A4 size. Then A4 paper cutting packaging machine can collect, trim and stack A4 paper in a ream automatically (a ream=500 pieces of A4 paper)...
Roll Paper Sheet CutterThis CK series roll paper sheet cutter (paper roll to sheet cutter) is a kind of high speed paper process machine that is very popular in the paper making market.
Our CK series paper cutting machine adopts the advanced Germany and U.K technique. The machine can reach to a cutting speed as high as 350 sheets/min or 350 m/min, and ...