Printing & Packaging Machinery
Fully Automatic Non-Woven Bag Making Machine (Full Automatic Multifunctional Non-Woven Bag Making Machine)
Introduction
Pripack Machinery Company mainly provides ONL-B700 and ONL-B800 fully automatic non-woven bag making machines. In the process, our high speed non-woven fabric bag making machines take non-woven as raw materials. This machinery can produce non-woven bags of various sizes and shapes, such as non woven shopping bags, reticules, flat port bags, shoes bags and other packaging bags.
Features
1. Pripack non-woven bag making machine is configured with local touch-screen computer to operate.
2. Our non-woven fabric bag making machines can realize automatic feeding and shutdown and auto-punch.
3. Matched with stepping type length setting, photoelectric tracking and computer automatic positioning, this bag making machinery is accurate and stable.
4. High speed non-woven bag making machine adopts ultrasonic welding, making it solid and smooth.
5. Pripack non-woven fabric bag making machines can achieve automatic temperature and automatically correcting leaks.
6. Automatic counting can set count alarm. Automatic punching makes the production of finished products seal firmly.
Main Technical Parameters
Model
Fully Automatic Non-Woven Bag Making Machine
Type
ONL-B700
ONL-B800
Production Speed
40 to 100 pcs/min
40 to 100 pcs/min
Bag Width
100 mm to 800 mm
100 mm to 800 mm
Bag Length
200 mm to 580 mm
200 mm to 680 mm
Bag Thickness ( G.S.M)
30 g to 100 g
30 g to 100 g
Power Supply
380V/220V
380V/220v
Total Power
22 kW
25 kW
Overall Size
11000*1950*1800 (mm)
11000*2050*1800 (mm)
Bags
Pripack non-woven fabric bag making machines can make different kinds of bags. The typical ones are as follows:
1. Flat Bag (D-Cut Bag)
2. Flat Bag with Bottom Gusset
3. T-shirt Bag (Vest Bag, U-Cut or W-Cut)
4. Handle Bag
5. Box Bag
6. Shoes Bag (Rope Wearing Bag)
7. Laminating Bag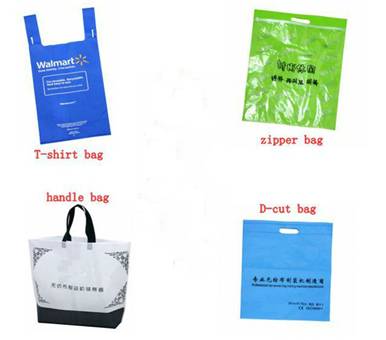 Lantytk® Corp has continually focused on providing a wide variety of paper processing, printing and packaging machines for customers around the world. We are very familiar with international market of non-woven bag making machine, folder gluer, laminating machine, paper coating machine and semi-automatic blow moulding machine and its trend of development. With high quality assurance, our automatic non-woven fabric bag making machines are popular in markets including Ukraine, Russia period, Chile, Brazil, Argentina, Mexico, Malawi, Pakistan and South Africa.
Related Products
Aluminum Lid Punching Embossing MachineThis SPB-400 aluminum lid punching and embossing machine is mainly used to convert printed or unprinted aluminum foil into little sheets. It can also convert plastic foil and paper. Yogurt lids, labels packing in food and beverage industry always use this machine. This machine can finish embossing, lid punching, lids collecting and lid counting together with high efficiency...
Paper Bag Making MachineThis ZB960C sheet feed paper bag making machine (paper bag production line) is a kind of newly developed automatic paper bag maker for various types of paper bags. The processing flow is that, sheet feeding, gluing, side pasting, tube forming, tube, bottom folding, gluing, bottom pasting, and bag out. This pre-load feeder can lead to non-stop operation. There is PLC controller ...