Printing & Packaging Machinery
BLS600 Automatic Rigid Box Making Line
Description:
With reasonable design and reliable performance, BLS600 automatic rigid box making line is an optimum choice for making first-rate rigid box. It consists of the following parts including feeder, quad stayer, gluer, spotter, and wrapper. By adopting advanced PLC system, photoelectric detecting system, precise hydraulic pneumatic deviation correcting system, convenient touch screen HMI (human machine interface with Chinese and English version) and systems and devices alike, this rigid box making line achieves high-speed production in the continuous operations below: automatic delivery of sheet wrap paper and cardboard, sticking of the four corners onto the cardboard, paper gluing, suction belt conveying, and positioning plying-up, planish, automatic collecting, wrapping and forming of cardboard box. Through the on-line operation of machinery, hydraulic, pneumatic and electric system, the cardboard box production becomes fully automatic, the traditional cardboard box producing method being innovated, and the efficiency multiplying by more than 30 times. Production produced by this rigid box making line can be used to make top-grade boxes for shoes, shirts, ornaments, gifts, and etc.
Features:
1. Feeder installed on this rig box making machine makes possible the automatic delivery for wrap paper.
2. Hot-melting glue system circulates automatically, stirring the glue and gluing wrap paper.
3. Hot-melting glue tape automatically conveys and cuts itself, and finishes the pasting of the four corners onto cardboard at one time.
4. Quad stayer of this rigid box making line folds the cardboard and sticks holt-melting glue tape onto the erecting inner cardboard automatically and conveys it to corresponding place.
5. The vacuum suction system under the conveyer belt keeps the glued wrap paper from deviation.
6. The hydraulic pneumatic spotter device combined with precise photoelectric detecting system is installed on this rigid box making machine to position the glued wrap paper and fit it closely.
7. The molding section takes in cardboard box all by itself when there is one on the conveyer belt.
8. The square press tooling planishes the box that is passing under it, rendering the contact between wrap paper and cardboard neat and smooth.
9. The smart mechanical arm on this rigid box making line automatically draws boxes from the conveyer belt and delivers them to the molding section.
10. The molding section continually turns in edge sides of paper and wraps the inner cardboard box and finishes box forming process.
11. The machine adopts PLC control, photoelectric tracking system, touch screen HMI and realizes the automatic production of rigid box.
12. This rigid box making line automatically diagnoses problems and alarms them accordingly.  
Constituent Parts


Operation Procedure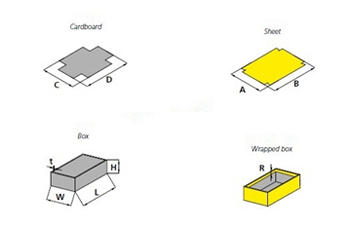 W+2H-4T= C (Max.) L+2H-4T=D (Max.)
A (Min.)≦W+2H+2T+2R≦A (Max.) B (Min.) ≦L+2H+2T+2R≦B (Max.)
Parameter Table of BLS600 Automatic Rigid Box Making Line
Paper Wrap Size(A*B)
Amin
95mm
Amax
610mm
Bmin
180mm
Bmax
850mm
Cardboard Size(C*D)
C
600mm
D
800mm
Paper Wrap Thickness
100-200g/m2
Cardboard Thickness
T
1-3mm
Finished Box Size(W*L*H)
Wmin
50mm
Wmax
400mm
Lmin
100mm
Lmax
600mm
Hmin
15mm
Hmax
150mm
Turn in Depth
Rmin
7mm
Rmax
35mm
Position Precision
± 0.5mm
Production Speed
≦35 sheets/min
Paper Pile Height
300mm
Cardboard Pile Height
1000mm
Motor Power
10.35kw/380v 3phase
Heater Power
6kw
Glue Tank Capacity
60L
Air Consumption
12L/min
Machine Weight
6800kg
Machine Dimension
L6600×W4100×H3250mm
Remarks:
1. The maximum and the minimum size of the boxes are affected by the size and quality of raw materials.
2. The production speed of this machine is decided by the following factors as raw materials, glue and the operator's skill proficiency.
Related Products
Aluminum Lid Punching Embossing MachineThis SPB-400 aluminum lid punching and embossing machine is mainly used to convert printed or unprinted aluminum foil into little sheets. It can also convert plastic foil and paper. Yogurt lids, labels packing in food and beverage industry always use this machine. This machine can finish embossing, lid punching, lids collecting and lid counting together with high efficiency...
Paper Bag Making MachineThis ZB960C sheet feed paper bag making machine (paper bag production line) is a kind of newly developed automatic paper bag maker for various types of paper bags. The processing flow is that, sheet feeding, gluing, side pasting, tube forming, tube, bottom folding, gluing, bottom pasting, and bag out. This pre-load feeder can lead to non-stop operation. There is PLC controller ...